Credit – Ardfern, Old Trafford, April 2020 (04), CC BY-SA 4.0
It has been six-and-a-half-years since Manchester United signed teenager defender Luke Shaw from Southampton for £27m.

At the time, the move made him one of the most expensive teenagers ever. Fans of both Manchester United and England waited for Shaw to develop into the world-beater his price tag suggested he could be.
What followed was more than half a decade of disappointment, injury and despair. When he was fit enough to play, he was often berated by United fans for not living up to his price tag, and he was called out in the most humiliating way by former manager Jose Mourinho. The Portuguese manager claimed the way Shaw trained and conducted himself was way behind his teammates, a crushing blow to a player who suffered a double leg break in 2015 and ankle ligament damage not long after his return.

Even as recently as October, Mourinho was doubtless chuckling to himself as Shaw and United were humiliated by his current club Spurs in a 6-1 thrashing. Having signed Alex Telles in the summer, a left-back seemingly destined for the first team, Shaw may well have feared for his place in the side. That certainly was not the case as we emerged from the transfer window. United made plenty of changes, letting Odion Ighalo leave at the end of his contract. It was believed five players could depart Old Trafford over the winter months, but the much-maligned Shaw was not one of them. Indeed, Shaw's upturn in form since October ensured that when the window did open, there was little talk of bringing in defenders at all, which certainly went some way to saving the Red Devils outfit a big outlay. Bwin Sports' 'January Transfer Window' post details that on average, Europe's elite clubs spend £71m on centre-backs in the January window, and £109m on wide defensive players. Shaw can operate at either left full-back, or on the left-hand side of a three-man defence, making him versatile enough to fit different systems. That versatility is part of his overall appeal, and it gives manager Ole Gunnar Solskjaer plenty of options in terms of setting his side up.


That is not the reason Shaw has become indispensable though. He showed exactly what he was about in their recent 3-2 win against reigning champions Liverpool. Mo Salah is thought of as one of the finest footballers in the world, but he could not get a minute's peace out of Shaw, who marshalled him brilliantly. It was so tough for Salah that he swapped wings with Sadio Mane, to see if he could get the better of Shaw. He did not.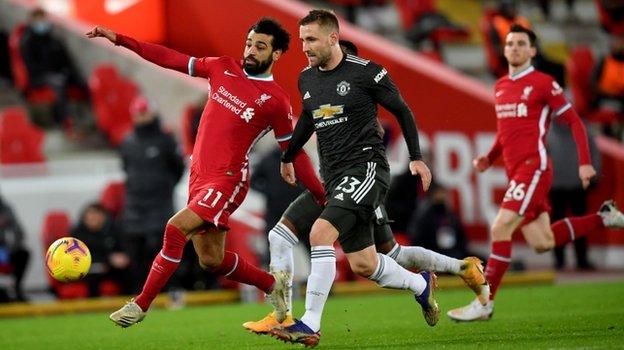 Further up the field, Shaw is growing into the player United paid so much money for in 2014. Now 25, he has developed his game and can attack with pace and poise, as well as delivering telling passes. In the victory against Liverpool, a watershed moment for United fans, Shaw delivered a 81% pass accuracy, better than any other United player, as well as creating three chances for his side.

When he is asked to drop more central, he does it with consummate ease, something he demonstrated in the fine win against Champions League finalists PSG earlier in the season. Shaw is proving that against the best players around the world, he now has what it takes to compete.


Manchester United are a long way from being the finished article, and there are areas of the field they certainly need to strengthen, but left-back is not one of them. Shaw's form is such that he is now being mentioned by pundits as a possible England left-back. That is astonishing for a player who has appeared just twice for his country since 2015, but it is a marker of exactly how far he has come.


Manchester United fans know their club must spend to keep pace with the genuine Premier League title contenders, but with Shaw hitting form and Telles keeping up the pressure, the left side of the defence is one area they will not have to fork out a single penny.