Liverpool failed to make it three wins in a row in the English Premier League as they lost to Nottingham Forest 1-0 at the City Ground on Saturday afternoon. The Merseyside Reds struggles this season are back despite defeating Manchester City and West Ham United in their last two games.
Super Eagles and former Liverpool striker Taiwo Awoniyi scored the only goal of the game as Nottingham Forest claimed all three points against the Merseyside Reds.
After the game, Liverpool manager Jurgen Klopp reveals why his team lost to Nottingham Forest despite creating a lot of chances in the game.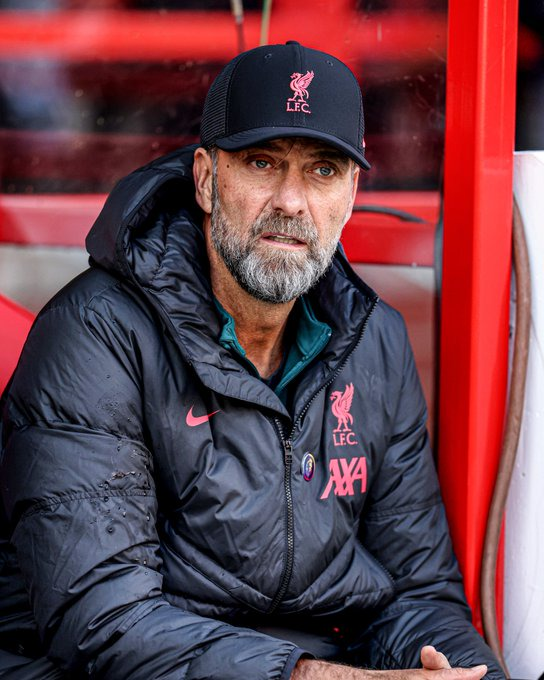 Liverpool boss Jurgen Klopp speaking to BT Sport: "The performance I can kind of explain, the result not to be honest. I never saw a game where one team has four or five no-brainers from a set piece where we have to finish it off. The way they defend we were perfectly prepared for that. We had to put the game to bed to be perfectly honest.
"The goal we conceded was a big mistake from us. We lose the ball and give them the free-kick and this can happen around set pieces. Apart from that, all the chances they had we gave them. We had to make really late changes and in general a lot of changes and it's a game you have to win doing the right stuff again and again and again and we didn't. That's why we stand here and have lost the game.
"We arrived with consistency but we had six games with a limited squad playing three high intense games. That's how it is, we cannot change that and we have to fight through. Result-wise we should have showed consistency today. We could have had it by finishing situations off.
"Giving a team six clear chances after a set piece I'm not sure where I should put the praise to be honest. They are a great team and Steve is a great manager but for us today we have to win here and we didn't, so credit to Nottingham."