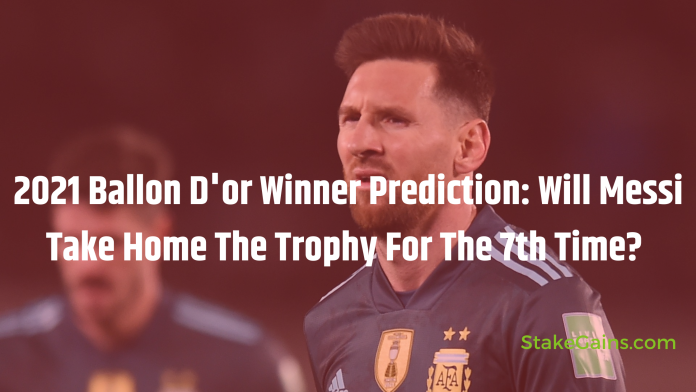 It is that time of the year that the net is buzzing with 2021 Ballon D'or winner predictions. After the COVID enforced hiatus, 2021 Ballon D'or seems to be the most competitive Ballon D'or ever.
The race for the 2021 Ballon d'Or begun after the 30-man shortlist was released not too long ago. The countdown will end on November 29, when the award ceremony takes place in Paris, France.
Lionel Messi and Cristiano Ronaldo have managed to pass this trophy amongst themselves in a dominant reign over the years, this for sure excludes 2018 when Luka Modric took it home. Nonetheless, the shortlist of the year includes some worthy names who can take home the trophy.
Come to think of it, the odds are not far off to confidently pronounce Messi the 2021 Ballon d'Or winner. That doesn't mean that other previous winners who are on the run have little to no chances of winning.
If you look closely, you'll be amazed to discover that no fewer than 15 players were nominated for the first time in their careers.
Let's have a look:
Cesar Azpilicueta (Spain/Chelsea)
Nicolo Barella (Italy/Inter Milan)
Giorgio Chiellini (Italy/Juventus)
Ruben Dias (Portugal/Manchester City)
Gianluigi Donnarumma (Italy/Paris Saint-Germain)
Bruno Fernandes (Portugal/Manchester United)
Phil Foden (England/Manchester City)
Erling Haaland (Norway/Borussia Dortmund)
Jorginho (Italy/Chelsea)
Simon Kjaer (Denmark/AC Milan)
Romelu Lukaku (Belgium/Chelsea)
Lautaro Martinez (Argentina/Inter Milan)
Gerard Moreno (Spain/Villarreal)
Mason Mount (England/Chelsea)
Pedri (Spain/Barcelona)
Some of these players look destined to become regulars among the Ballon d'Or nominees for years to come, for others this could prove to be a career-high point. In the past, some have failed to flourish after receiving the illustrious nod, while others have maintained their high standard without receiving any further acknowledgment.
Then again, to answer our question, will Messi take home the award for the 7th time? We must assess his performance so far alongside four other phenomenal players who made the list.
To make a much fair statement, Which player stands the best chance of being crowned the best footballer in the world?
Benzema
Since the exit of Cristiano Ronaldo from Real Madrid, striker Karim Benzema stands out as one of this year's favorites, for he has put his team on his back and continued just fine.
The 33-year-old is currently in everyone's minds following his wondergoal for France against Spain in the Nations League final on Sunday, October 10, when he equalized before Kylian Mbappe won France the match.
His outstanding performance so far could mean him being the first Frenchman to win the trophy since Zinedine Zidane did back in 1998.
Lewandowski
Bayern Munich star Robert Lewandowski is looked at by many as the worthy winner of the 2020 Ballon d'Or. Sadly, the award was scrapped that year due to the COVID-19 pandemic and therefore nobody won, but the Poland international will no doubt want to get his hands on the trophy once and for all.
With 48 goals in 40 games last season, including 41 in 29 league games, you can't help but admit that Lewandowski is one of the most in-form strikers in the world right now and stands out as one of the favorites.
Jorginho
Pay attention to this, Chelsea and Italy's Jorginho is the only midfielder up for the award, a rare occurrence in this day and age, but this man's 2021 has been more successful than anybody else's.
A couple of months after winning the Champions League with Chelsea, Jorginho won Euro 2020 with Italy. He did this all before adding the UEFA Super Cup to his resume and currently sits atop the Premier League with the Blues.
Having already won the UEFA Men's Player of the Year award this year, Jorginho is the man to watch out for this year, with many pipping him as the favorite.
Cristiano Ronaldo
Love him or hate him, this man can never be counted out of the running. Despite being 36 years of age, Ronaldo shows no signs of slowing down. This is evident with his extraordinary performance crowned with five goals in his first six games having rejoined Manchester United recently.
With five Ballon d'Or awards under his belt already, the first of which came in 2008, 13 years ago, Cristiano Ronaldo remains a possible winner of 2021 Ballon D'or.
Messi
The man who is the current holder of the trophy is also the same man who has won the trophy more than anyone else, with a total of six to his name. Like that is not enough, he's on his way to keep it for another year if care is not taken.
Clearly, Barcelona is not on the richest patch of their history right now, the club that Messi exited this summer, he still added the Copa del Rey and the Pichichi trophy to his 2021 collection. To top it off, he won Copa America with Argentina this summer.
Isn't it amazing that at 34years of age, he is still running, always?
Now you tell me, from what you've seen on the field, and what you've read so far, what are the odds that the 2021 Ballon D'or winner is Lionel Messi? Leave your predictions in the comment below.