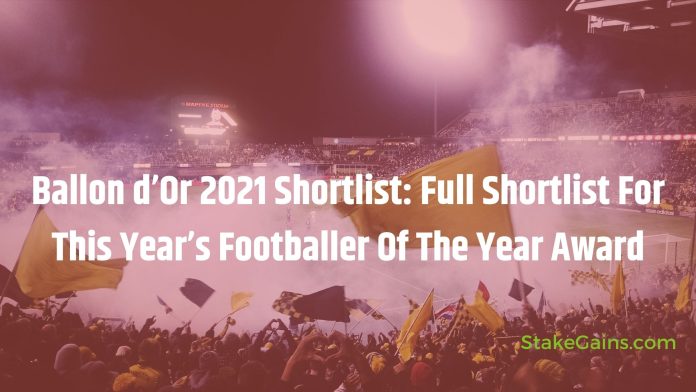 The just-released full shortlist for this year's footballer of the year award surprisingly includes at least 15 first-time nominees in the men's category. Of course, the usual names and previous winners like Lionel Messi, Cristiano Ronaldo, Luca Modric made the list, however, this might just be the highlight the newcomers need as they advance in their careers.

The men's and women's Ballon d'Or winners will be crowned at a gala event at the Chatelet Theatre in Paris on 29 November.
The event will also hand out the Kopa Trophy, given to the best men's player under 21, and the Yashin Trophy handed to the best goalkeeper.

Here we run through the top five contenders after the 30-man shortlist was revealed on 8 October.
2021 Ballon d'Or 30-man shortlist
• Cesar Azpilicueta (Chelsea)
• Nicolo Barella (Inter Milan)
• Karim Benzema (Real Madrid)
• Leonardo Bonucci (Juventus)
• Kevin De Bruyne (Manchester City)
• Giorgio Chiellini (Juventus)
• Cristiano Ronaldo (Manchester United)
• Ruben Dias (Manchester City)
• Gianluigi Donnarumma (Paris Saint-Germain)
• Bruno Fernandes (Manchester United)
• Phil Foden (Manchester City)
• Erling Haaland (Borussia Dortmund)
• Jorginho (Chelsea)
• Harry Kane (Tottenham)
• N'Golo Kante (Chelsea)
• Simon Kjaer (AC Milan)
• Robert Lewandowski (Bayern Munich)
• Romelu Lukaku (Chelsea)
• Riyad Mahrez (Manchester City)
• Lautaro Martinez (Inter Milan)
• Kylian Mbappe (Paris Saint-Germain)
• Lionel Messi (Paris Saint-Germain)
• Luka Modric (Real Madrid)
• Gerard Moreno (Villarreal)
• Mason Mount (Chelsea)
• Neymar (Paris Saint-Germain Pedri)
• Mohamed Salah (Liverpool)
• Raheem Sterling (Manchester City)
• Luis Suarez (Atletico Madrid)
The Copa America triumph Messi achieved with Argentina could see him take home a seventh Ballon d'Or, but the Chelsea Italian Jorginho poses a threat with his medal collections as well.

Recall that the decision to call for the 2020 Ballon d'Or awards was met with huge controversies. And the fact that the decision robbed the year's favorite Robert Lewandoski of the much anticipated Ballon d'Or was heavy to bear. Now it's highly unlikely that he would be taking it home this year given that the Bayern Munish striker is up against some stiff competitions this year.
Lionel Messi

Messi has always borne the weight of his former team on his shoulders. It was evident that Barcelona not only appreciated his qualities when he was with them, they also realized their dependency on the forward when he left for Paris Saint-Germain last summer.

Messi's haul of 38 goals and 14 assists in 52 games helped Barça finish third in La Liga and win the Copa del Rey, but the reason why a seventh Ballon d'Or looks likely this year is down to his international achievement – at long last.
Argentina won the Copa America when beating Brazil 1-0 in July's final, marking the first major international trophy for Messi after he was a runner-up three times in the South American competition as well as the 2014 World Cup.

He secured 4 joint goals, created 21 chances, as well as the most goal contributions, 5 assists, 28 shots, and 11 shots on target, all at Copa America. If that isn't phenomenal, I wonder what is.

The scenes of Messi crying tears of joy when celebrating their triumph in front of supporters in September (the competition itself was played behind closed doors) will live long in the memory for Argentines, especially after their near-misses in years gone by.
It is the reason Messi is the odds-on favorite to win the Ballon d'Or, while for good measure his stunner against Manchester City was a timely reminder why he looks set to go two clear of Cristiano Ronaldo.
Robert Lewandowski

The term "robbed" was banded around this time last year when the Ballon d'Or was canceled, almost certainly denying Robert Lewandowski the men's award, given the Polish striker was instrumental during Bayern Munich's treble-winning 2019-20 campaign, scoring a staggering 55 goals in 47 games.

There may well be a strong contingent who believe Lewandowski's 2020 should be recognized with the 2021 award, while he still boasts the numbers to back his bid this year.

Good thing he kept up his prolific rate with 48 goals in 40 games last season, winning the European Golden Shoe as Bayern won the Bundesliga again, while he has also started 2021-22 in a similar vein, scoring seven times in the first five league matches and netting twice at the Nou Camp when Bayern breezed past Barcelona 3-0.
Jorginho

This article will not be complete if Jorginho isn't duly recognized. The Champions League and Euro 2020 winner. A worthy candidate for those very two reasons. Boasting the best European trophies on offer at both club and international level, Jorginho was a major benefactor from Thomas Tuchel's arrival at Chelsea. There's no denying that.

Excluding his suspension (last-16 second leg vs Atletico Madrid) and his 15 minutes play during Italy's Euro 2020-winning campaign, he played every minute of the Champions League knockout games.

Funny enough players around him took the headlines during both triumphs, but his efforts were recognized with the Uefa Men's Player of the Year award after he also lifted the Super Cup with Chelsea.
N'Golo Kante

The popular Chelsea midfielder was a primary reason why they won the Champions League last season, remarkably claiming Uefa's Player of the Match award in both semi-final legs against Real Madrid as well as the final against Manchester City.

Given the rarity in which defensive midfielders win the Ballon d'Or, the odds are against him and Jorginho. Nevertheless, former Chelsea captain John Terry and international teammate Paul Pogba are among the names to have backed N'Golo Kante.
Cristiano Ronaldo
Despite ending the season as the Serie A top scorer, Cristiano Ronaldo's tally of 29 league goals were only enough to help Juventus finish a surprise fourth, while there was a disappointing last-16 exit to Porto in the Champions League.

Juve was at least able to win the Coppa Italia, in a campaign that somewhat mirrored Barça and Messi's over in Spain, but Ronaldo makes the top five due to his efforts since.

At Euro 2020 he ended the tournament as the Golden Boot winner with five goals (tied with Patrik Schick) and one assist, despite Portugal playing just four games having lost to Belgium in the last 16, while Ronaldo then broke the men's international scoring record with goals No 110 and 111 against the Republic of Ireland in September.

By this time Ronaldo had swapped Juventus for Manchester United, capping off a memorable summer transfer window when returning to Old Trafford, where he has unsurprisingly started with a double in his first game back against Newcastle, and a late winner to see off Villarreal in the Champions League.
Bottom line is, the list has some strong contenders. This made the competition stiff, a bit hard to predict correctly. Good thing November is just next month. Let's keep our fingers crossed. If you want to see a full prediction of who will win the 2021 Ballon d'Or click here
If you have questions and comments, we would love to hear from you. Please send your questions and comments in the comment section.