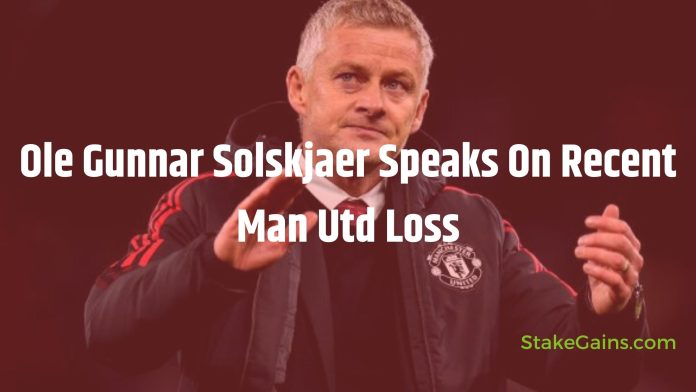 Ole Gunnar Solskjaer: "I'm not going to let a period like this define me"; Manchester United looking for a reaction after Liverpool defeat; Watch Tottenham vs Man Utd live on Saturday Night Football; kick-off at 5.30 pm
Here's an exclusive from Ole Gunnar Solskjaer on the recent condition of Manchester United.
A week on from the humiliation of a five-goal defeat to Liverpool, Manchester United boss Ole Gunnar Solskjaer speaks to Sky Sports' Pat Davison – watch Tottenham vs Man Utd on Saturday Night Football
In an exclusive interview, a determined Ole Gunnar Solskjaer has told Sky Sports his 18 years at Manchester United are not going to be defined by a current run of poor form.
Solskjaer's side was left reeling after a 5-0 thrashing by fierce rivals, Liverpool, on Super Sunday – a game which extended their winless Premier League run to four matches.
The grueling schedule does not ease up either, with United traveling to Tottenham this weekend, live on Sky Sports, before a midweek trip to Atalanta in the Champions League. Then come local rivals and Premier League holders Manchester City ahead of the international break.
Despite the pressure continuing to mount on both club and manager, Solskjaer was in a defiant mood when discussing United's recent troubles, and has targeted a big reaction on Saturday.
He told Sky Sports' Patrick Davison for Soccer Saturday: "I've got open and direct communication with the club, with the board and we're very upfront. Of course, I don't expect them to come out and defend a performance like this [against Liverpool], and we're in a poor run of form.
"But my 18 years at the club are not going to be defined by these few weeks. I've had ups and downs as a player, I've had ups and downs as a manager, as a coach in the reserves, and for me, I'll always make sure that I fight back.
"I'm not going to let a period like this define me. I'm going to go all-in now for a result on Saturday and that's the only thing we can do. We need a reaction and we need a result.
"I've not seen what's being talked about now or what's being said out there, but we've had two or three, let's call them 'crises', in the two or three years that I've been here. The team and the players have come through it stronger.
"Every team has a bad spell every season, we're in a very precarious and a bad moment, but that's what good players thrive in, that pressure. They're here at Man United because they're good people, good players, and can handle these situations.
"It's not about me, it's about the club, the players, and the fans. All the players will remember that all the fans stayed and they supported the team [against Liverpool].
"They will always support the team, even at 5-0 down, they're there and singing. It's remarkable that the club has that and it's been through some dark moments.
"At the moment, yes, we are in a bad moment but it's not like the be-all and end-all, the result against Spurs. I can't think that way. All I've got to think is that we prepared well, which we have done.
"We've had a good training week and sorted some mindsets out because we need to go into the game with a right frame of mind – aggressive and go all out for a win, but also to be calm and composed and wait for the right moment."
Solskjaer added: "You see, for example, Tyson Fury; he gets knocked down, he stays down for as long as he needs to – calm and composed – then gets up and goes again."